Asset tracking software
Protect your high-value assets and maximize their ROI — from your desk or in the field.
ASSET TRACKING:
Discover the value hiding in plain sight.
There's a lot to learn — and even more to earn — from your heavy equipment, trailers, yellow iron, and machinery. From location and usage to diagnostics and maintenance, historical and real-time asset data and insights can drive improvements across your operations. Peak performance and profitability are now at your fingertips.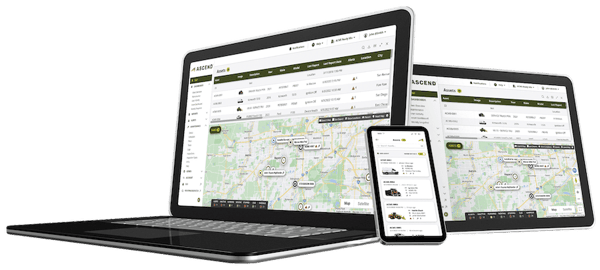 ASCEND's GPS asset tracking makes it easier than ever to:
Make the most of what you've got.
With clear visibility of your assets across multiple yards, job sites, and state lines, our GPS asset tracking system makes it easy to locate the right tools for the job, check engine hours and availability, and reallocate on the fly.
Right-size your fleet.
Know what you actually need. And where to find it. It may be sitting in a yard somewhere, standing idle on another job site, or you may have to rent or purchase it. But you won't have to be over- or under-resourced again.
Prevent and recover lost assets.
With our real-time GPS asset tracking and geofencing, you can customize alerts to notify you the moment an asset leaves its designated area. Then monitor its location, speed, and direction to ensure a quick recovery.
Bill and bid better.
You can offer customers more transparency in billing and be more competitive in bidding when you have easy access to hard data showing engine hours, idle time, location, usage, and on-site job time. Know exactly what it took. And what it will take.
Minimize downtime.
GPS asset tracking and integrated on-board diagnostics let you easily detect, locate, and pull from service any equipment and machinery in need of maintenance, preventing costly failures, disruptions, and unplanned downtime.
Maximize asset life.
Combine the security of GPS asset tracking with proactive maintenance enabled by real-time equipment monitoring and diagnostics. You now have the formula for maximizing the useful life and ROI of your assets.