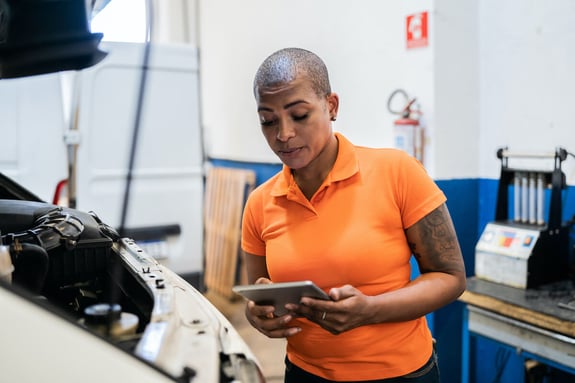 Advanced fleet maintenance software
Data-driven, proactive maintenance keeps fleets performing, profitable, and productive longer.
MAINTENANCE:
Less time under the wrench. More time on the job.
The sooner you can resolve a maintenance issue, the less of an issue it will be — the less repairs will cost, the less time they'll take, the less disruption to fleet operations they'll cause. And the more productive and profitable that vehicle or asset will be. With industry-leading fleet maintenance software, never miss another routine service, red flag, or opportunity.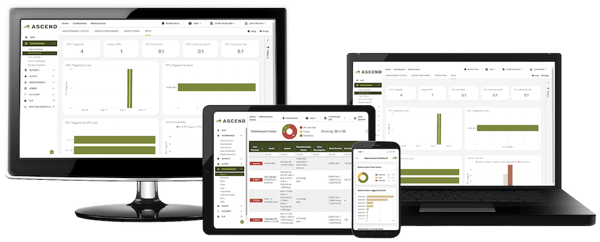 ASCEND's built-in fleet maintenance module delivers:
70-75% fewer breakdowns.
Predictive maintenance diagnostics detect trouble at its onset, alerting you in real time so technicians can quickly and seamlessly prioritize and schedule service to prevent breakdowns along with the unplanned downtime and expensive repairs they precipitate.
Reduced costs. Increased uptime.
Proactive maintenance can slash costs 25-30% from a reactive, post-breakdown approach. On top of that, it can reduce downtime 35-45%, boosting productivity and putting you in the fast lane to growth and profit.
Streamlined workflows.
Beyond regular service reminders and real-time diagnostic trouble code alerts, get the reliable, integrated data and insights to easily and efficiently prioritize and schedule maintenance, for maximum fleet uptime with minimum effort.
20% longer life.
On its own, predictive maintenance has been shown to lengthen vehicle and asset life by 20%. Our fleet maintenance tracking software combines predictive and preventive maintenance with real-time monitoring and diagnostic alerts to extend the productive life of your fleet.
Better fuel economy and performance.
Routine maintenance can boost MPG 5%, while fixing faulty equipment can yield up to a 40% increase. Our integrated maintenance module will get your fleet performing at its fuel-efficient best, expediting workflows to increase ROI ASAP.
Automatic compliance.
ASCEND's native maintenance module brings together electronic DVIRs, diagnostic trouble code alerts, and OEM reminders to keep fleet maintenance on track and up to date, regulatory violations at bay, and vehicles, equipment, and drivers safe.