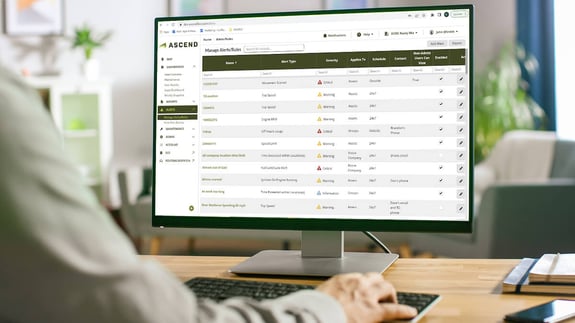 Real-time alerts
Get the information you need to make critical decisions when seconds count.
REAL-TIME ALERTS:
What you want to know, when you want to know it: now.
Is that driver texting while driving? Why is that truck overheating? How long has that engine been idling? Where are they taking that trailer? Detect and correct problems before they cost you fines, fuel, or assets. Define custom thresholds and groups to receive real-time, in-cab, and in-office alerts, so you can act fast to protect drivers, the public, resources, and revenues.
Fleet monitoring with real-time alerts enables you to take immediate action on:
Compliance and violations.
The sooner you find out if one of your drivers, vehicles, or assets violates FMCSA regulations, the sooner you can bring them into compliance and avoid costly fines, investigations, and service disruptions.
Unsafe driver and operator behavior.
Whether speeding, texting, or exceeding the rated load capacity, set alerts to instantly notify drivers and fleet or safety managers of issues and accidents, keeping drivers and operators accountable and empowering them to do better.
Fleet security.
With ASCEND's geofence alerts and fleet and heavy equipment monitoring, you'll know the second a vehicle or asset leaves a designated area or is used after hours, enabling more efficient recovery efforts and fewer expensive losses.
Required maintenance.
Keep mechanical issues from causing failures, costly repairs, and unplanned downtime by zeroing in on them early. Real-time alerts help you prevent service disruptions, prioritize maintenance, and preserve vehicle and asset health.
Idling and fuel consumption.
Heavy trucks and equipment consume 0.8 to 1 gallon of fuel per hour while idling — which they do, on average, 25% of the time. With excessive idling alerts, fleets can prevent engine wear and tear, reduce emissions, and save hundreds of thousands of dollars annually.
Inventory security.
When customers trust you with their shipments, you need to know that they're protected at all times. Our real-time vehicle monitoring, GPS tracking, and geofencing trigger instant alerts to accidents or incidents that threaten customer shipments … and your reputation.