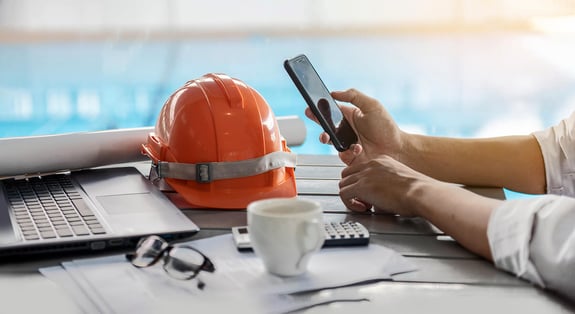 One fleet tracking app. All access.
Wherever you go, the entire ASCEND platform goes with you.
FLEET TRACKING APP:
The full power of ASCEND
in the palm of your hand.
While other telematics systems link together a series of fleet and gps tracking apps to create a total mobile solution, ASCEND delivers all the tools, visibility, and functionality of our all-in-one platform in a single, easy-to-use gps fleet tracking app.
Go mobile without missing a thing with our GPS Tracking App.
The easy-to-use ASCEND mobile gps fleet tracker app delivers all the functionality of our desktop platform to every member of your fleet — from drivers and operators to maintenance techs and managers — on the job site, on the road, and in the field.
All data entered in-app is instantly available on the platform (and vice-versa)

View the full live map remotely to locate assets quickly

Access all your fleet dashboards, alerts, and reports in the field
In-app direct messaging connects drivers and dispatch instantly

Reduce errors and miscommunication with real-time app inputs
Fleet Management App: Control costs on the go.
Waste, fraud, and inefficiencies can happen anytime. With the ASCEND fleet management app's anywhere, anytime, full-fleet visibility, and automated workflows, you can keep costs low, productivity high, and profitability maximized.
Set geofences to be notified of thefts or unauthorized use in progress

Use harsh driving alerts to coach drivers remotely and reduce accidents

Digitize compliance workflows to reduce errors and avoid fines

Review AI videos of incidents to protect against false claims

Spot excessive idling, speeding, and unauthorized use to contain fuel costs

Fleet Compliance App: Automate inspections and maintenance workflows.
No more paperwork. No wasting time tracking down drivers or previous vehicle and equipment records. No more searching the yard for hours to locate a machine or vehicle needing service. The app automates fleet compliance and maintenance for maximum uptime.
Perform e-inspections quickly and completely on the app

Seamless connection to e-inspections expedites maintenance

Log repair information in the app at the time of service
Pull up a complete vehicle or machine history with a tap

Easily configure e-inspection checklists for any asset or process