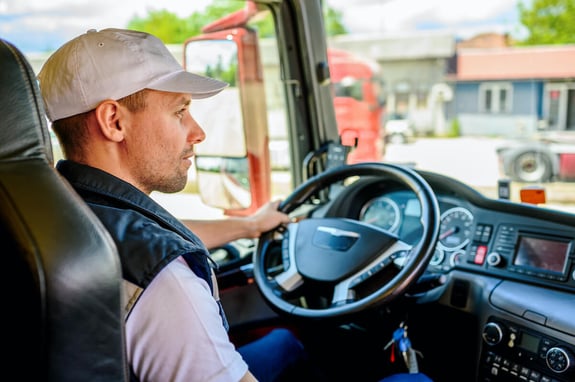 Fleet safety, security, and compliance solutions
It's never been easier to protect your fleet, your workforce, and your company's future.
SAFETY, SECURITY + COMPLIANCE:
Reduce the risks, reap the rewards.
Unsafe drivers, unsafe equipment, and unmet regulatory requirements take a toll on people, productivity, and company growth. The right tools and data can turn those risks into opportunities.
Protect drivers, operators, vehicles, and profits.
Driver behavior is critical factor in fleet safety, efficiency and profitability. And with ASCEND's custom alerts and reports, in-cab driver coaching, and regular performance evaluations based on shared data, it's a factor you have the power to transform.
Dashcams and real-time alerts warn drivers of hazards outside and inside the cab

Capture road events on AI video for driver coaching and liability protection

Set alerts for sudden acceleration, aggressive cornering, hard braking and more
Driver scorecards assess safety performance and motivate improvements

Minimize insurance costs by making full use of ASCEND's fleet safety program

Digital DVIRs ensure properly conducted inspections and vehicle safety
Prevent loss of vehicles, assets, and productivity.
When your vehicles and equipment are not en route or on-site, they're not earning. Keep them where you can see them — and use them — with ASCEND's advanced, real-time GPS tracking and full fleet visibility.
Define geofences and receive immediate alerts of unauthorized use

GPS tracking and on-board telematics provide current location, speed, and direction

Easily configure map views to see your entire fleet's locations and status at a glance

Quickly recover stolen assets and vehicles, and get them back on the clock

Track engine hours and off-route travel to prevent excess fuel and time consumption

Reduce loss and liability risks by minimizing after-hours and unauthorized use
Digital compliance makes best practices automatic.
Noncompliance results not only in steep fines, but also, in unnecessary exposure to safety risks and liabilities. ASCEND's automated fleet compliance software removes the risk — and the complexity — no matter how varied your fleet's regulatory requirements may be.
Streamline compliance workflows and increase accuracy of reporting

Maintain ELD, IFTA, and all FMCSA compliance, in one easy-to-use platform

DVIRs flag vehicle issues before they become hazards or violations
Mobile apps enable effortless yet timely reporting from the field

Changing regulations are automatically updated within the system

Reduce risk, violations, and unexpected costs and downtime