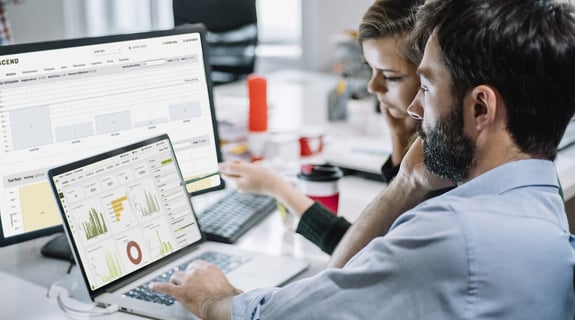 Vehicle analytics
Get the data and insights to level up fleet safety, productivity, and customer satisfaction.
VEHICLE ANALYTICS:
The metrics that move the needle.
From driver safety to ROI to the customer experience, if you're not measuring it, you're not improving it. Now, the metrics that drive the decisions that optimize fleet performance are at your fingertips.
Unlock peak productivity and efficiency.
Empower your fleet to do more with less. ASCEND's integrated, cloud-based fleet analytics deliver the real-time data and insights to quickly identify and prioritize opportunities for increasing output and containing costs.
Monitor mileage, hours of service (HoS), and load times/capacities to optimize utilization

Identify and alert drivers to excess idling to save time, engine wear, and fuel costs

Real-time GPS tracking alerts dispatchers to traffic slow-downs for faster rerouting
Total fleet visibility and communication enables more stops with less time and fuel

Proactive maintenance minimizes downtime while prolonging vehicle life

Automate compliance to reduce driver workload, errors, and violations
Safe drivers are profit drivers.
As they make the roads safer, your drivers are also making fleet operations more cost-effective. ASCEND's vehicle analytics keep fleet and safety managers informed and drivers aware of hazardous behaviors and conditions, saving lives and so much more.
Identify and correct harsh driving in real time, improving safety and vehicle life

AI cameras capture road events, for driver coaching and liability protection

Driver scorecards improve behavior, reducing downtime from accidents or repairs

Electronic DVIRs enforce and streamline pre- and post-trip inspections

Fleet safety data can drive down not only accidents, but insurance and replacement costs

Monitor speeding, idling time, and off-route usage to contain fuel costs
Keep your promises. Keep your customers.
Nothing delights a customer more than consistently doing what you say you'll do. But sometimes, things happen. So ASCEND's integrated vehicle analytics give you the 360° visibility to quickly reroute, recover and regain trust and loyalty.
Detect early signs of vehicle malfunctions before they can cause delays

Dispatch more efficiently with driver, vehicle, and customer data all in one place

Monitor traffic and weather conditions in real time and reroute on the fly
Geofencing and real-time alerts keep shipments secure and undamaged

Provide more accurate ETAs and allow customers to track driver status

Optimize route planning and scheduling to make more stops in less time