Customized fleet management dashboards
Everything you want to know, when you want to know it, in a single pane of glass.
DASHBOARDS:
Clear. Simple. Powerful. Insights that move the needle.
Understanding changes everything: fleet performance, profitability, growth. Discover the real-time fleet metrics and long-term trends driving your fleet's efficiency, utilization, safety, service, and more, with fleet dashboards that you can customize as you go. Then make smarter, faster, more meaningful decisions based on the most relevant, accurate information and insights.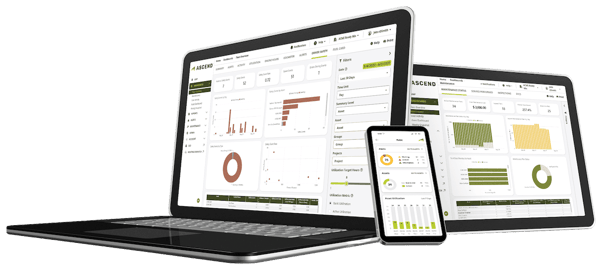 ASCEND's fleet management dashboards deliver:
Total visibility, at every level.
From a GPS satellite's-eye view to on-board diagnostic systems, see everything that's happening with your fleet, from individual vehicles to various asset classes, business units, job sites, and fleet-wide, in real time and over time.
Quick and easy user customization.
We made it simple for users to configure their dashboards on the fly to quickly identify anomalies, problem areas, or opportunities relevant to their needs and goals, from fuel usage to payroll, asset utilization to driver safety, and more.
Anywhere, anytime access.
These highly customizable dashboards are also available on our mobile apps, so you can stay in the loop in real time with all the information you need to monitor trouble spots, avert problems, and keep your fleet operating optimally.
Instant alerts for immediate action.
Define your own thresholds for real-time notifications of anything from harsh driving events and unauthorized use to excess fuel consumption and diagnostic trouble codes. The faster you can detect it, the easier (and cheaper) it is to correct it.
Opportunities for improvement.
Assess fleet and individual performance by establishing benchmarks and KPIs. Stack ranking your fleet against criteria like driver safety, fuel efficiency, utilization, and productivity can identify stubborn problems as well as new opportunities for improvement.
Seamless collaboration.
Get teams on the same page with their own dashboards configured according to their specific assignments and purposes. Define roles and permissions, so that team members get all the information they need and nothing they don't.