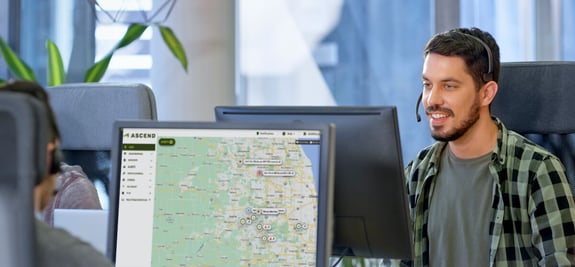 Service and delivery vehicle tracking system
Keep your fleet safe, your operations efficient, and your promises consistently.
SERVICE + DELIVERY:
Time is limited. Customer satisfaction shouldn't be.
In the field, on the road, or on premises with a customer, every minute counts. To make the most productive, profitable use of it requires total fleet visibility, optimized routing and dispatch, safe, responsible driving, and one easy-to-use system to manage it all. In a single pane of glass, ASCEND's integrated, cloud-based platform shows you everything you need to know to make your arrival windows, take those urgent service calls, and deliver on time, time after time.
SAFER DRIVERS:
Accidents wreck everyone's day.
Aggressive driving, failure to stop, and speeding are all-too-common responses to demanding schedules and quotas. So ASCEND delivers the tools and data to improve driver behavior and reduce accidents and downtime, building confidence, reputations, and business.
AI video triggers real-time alerts of collisions and distracted or hazardous driving

Monitor reckless driving behaviors and provide in-cab driver coaching as soon as they occur

Driver scorecards make safety a focus with gamification and healthy competition

Keep vehicles safe and roadworthy with e-DVIRs and proactive maintenance

Prevent unauthorized use of vehicles with geofences and real-time alerts
Real-time Alerts ▸
Safety, Security + Compliance ▸
Driver Scorecards ▸
SMARTER ROUTES:
A better way is a tap away.
Customers rely on you to get drivers there when you say you will. But traffic, construction, engine trouble, and accidents often have other plans. Anticipate. Adapt. And arrive as promised, with ASCEND's market-leading route optimization software, for faster, clearer paths to total customer satisfaction.
Visualize all your vehicles and stops in map and timeline views

Optimize routes according to distance, job requirements, and arrival windows

Monitor changing traffic and road conditions, and reroute to save time and fuel

Create repeatable, automated, daily or weekly routes

Define driver territories using geofences to reduce mileage and fuel costs
Routing ▸
Geofences ▸
Fuel Management ▸
STREAMLINED DISPATCH:
Be nimble, quick, and there when they need you.
Things happen: the internet goes out, pipes back up, trees need trimming. Whether it's an emergency or scheduled stop, your techs need to get there quickly, safely, and efficiently. ASCEND's advanced service dispatch software delivers, with time, fuel, and mileage to spare.
Upload,

assign

and

reassign

jobs

on

the

fly

with

drag-

and-

drop

ease

View

assigned

and

unassigned

stops,

available

drivers,

and

distance

to

targets

Get

real-

time

progress

updates

with

map

and

timeline

view

of

drivers

and

routes

Provide

reliable

ETAs

and

shorter

arrival

windows

for

customers

The

driver

app

enables

document

capture

and

instant

messaging

with

dispatch