Fleet fuel management systems
Gain control over rising fuel costs, fraud, and waste.
FUEL MANAGEMENT:
Burn less fuel. Keep more profits.
It's one of a fleet's biggest expenses — and it's more expensive than ever. Fleet fuel tracking can show you where you're spending too much, why miles traveled, engine hours, MPG/tons per gallon, and fuel purchases may not be adding up, and where you can improve vehicle and driver efficiencies. Agile fleet fuel management has never been more critical. Fortunately, it's also never been easier.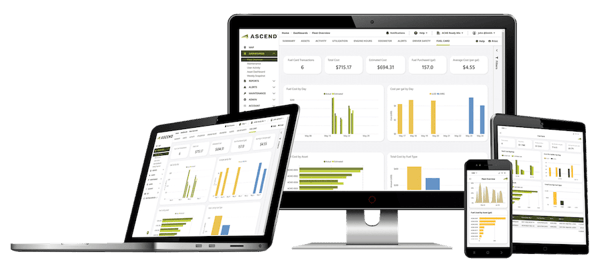 ASCEND's fleet fuel management software empowers you to:
Understand fuel use trends.
Connecting telematics data with your current fuel card, ASCEND fleet fueling management delivers important fuel usage insights for various vehicle or asset groups, projects, drivers, and date ranges, with real-time alerts of driving behaviors and maintenance issues impacting fuel consumption.
Stop idling.
Each year, an estimated six billion gallons of fuel is wasted by passenger and commercial vehicles alone, to say nothing of heavy equipment. And at today's fuel prices, it can take a big bite out of your profits. Our fleet fuel management systems lets you get idling in check with custom reports and real-time alerts of each event. The sooner you correct it, the sooner you stop hemorrhaging money.
Drive efficiency.
ASCEND's reliable, real-world MPG/tons-per-gallon data fuels smarter vehicle and equipment lease and purchase decisions. And with driver behavior accounting for over 30% of fuel consumption, our real-time alerts for speeding, hard stops and starts, and idling are worth their weight in diesel.
Combat fraud.
Our fuel management software goes beyond visibility, sending real-time alerts of excessive or unauthorized fuel card purchases, and corroborating GPS tracking and mileage data with time and location of purchases to detect and deter fraud and theft.
Maintain to get ahead.
Fleet fuel management systems like ASCEND's, integrated with an unrivaled native maintenance module, can deliver a 5% increase in MPG through routine, preventive maintenance and another 40% through repairs of faulty equipment.
Automate IFTA compliance.
Fleets subject to location-based fuel taxes and compliance can leave behind the paperwork, discrepancies, and costly errors. Miles traveled, total fuel used, fuel cost, fill-up events, engine hours, and more are calculated for you from fuel card, vehicle tracking, and telematics data.