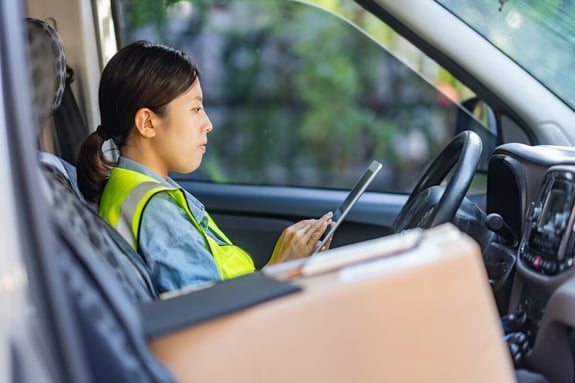 Driver scorecards
Incentivize the kinds of driver and operator behaviors that move fleets forward.
DRIVER SCORECARDS:
Reward top performers and make safety second nature.
Safety is serious business. Gamifying it can actually lead to serious improvements. Driver scorecard metrics use relevant fleet data — from mileage, idling, and harsh driving to seatbelt use, fuel consumption, and after-hours usage — to show drivers how they're doing and where they can improve, motivating them to do precisely that.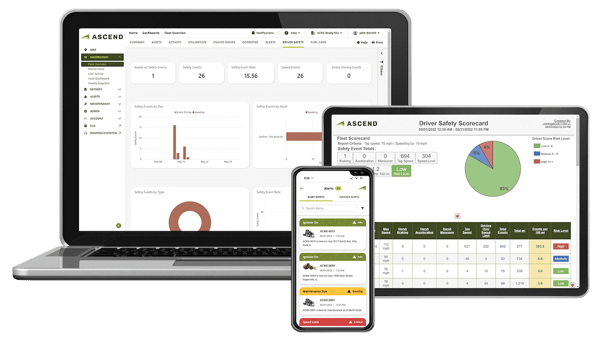 Operator and driver scorecards promote safety, productivity, and profitability by:
Engaging and empowering drivers.
Scorecard programs inspire drivers and operators to take ownership of their performance through gamification and clear communication of fleet and individual benchmarks, where they stand, what to work on, and recognition of their achievements.
Minimizing accidents and downtime.
Every commercial vehicle accident has the potential to cost lives. At best, they'll cost time and money. Scorecards promote levels of driver safety and accountability that prevent accidents, saving not only lives, but costly repairs and service disruptions, as well.
Saving fuel.
Behaviors like Jackrabbit starts, speeding, and excessive idling can dramatically impact fuel consumption. Make sure your drivers' impact moves the needle in the right direction with the kind of safe, steady driving that has been shown to improve fuel efficiency.
Extending vehicle and asset life.
Many of the same behaviors that reduce fuel efficiency also shorten vehicle and equipment life. Alerting drivers to instances of excessive idling and harsh driving enables them to correct those behaviors and prevent unnecessary wear and tear.
Reducing risk, violations, and insurance costs.
The culture of safety and changes in driver and operator behavior that scorecards inspire can be instrumental in improving your fleet's risk profile and maintaining compliance, reducing your insurance premiums, and preventing costly regulatory violations.
Improving CSA scores.
Based largely on driver safety, the FMCSA's Compliance, Safety, Accountability (CSA) scoring can affect not only your insurance rates and risk of investigation, but also your ability to win contracts. Scorecards can help optimize your fleet CSA scores … and your opportunities.