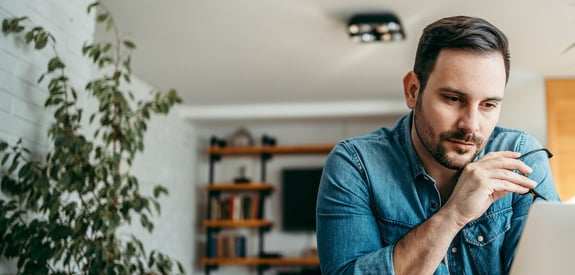 Customizable fleet management report software
Get automatic insights into the emerging and historical trends affecting fleet performance and productivity.
REPORTING:
Relevant. Reliable. Clear. Reporting to grow on.
On the road, in the field, and on the job site, even minor deviations from standard operating procedures can significantly alter your business trajectory. See what's actually affecting every facet of your operation, now and up to now, with unified data and reports customized to deliver the actionable intelligence you need to adapt, anticipate, and grow.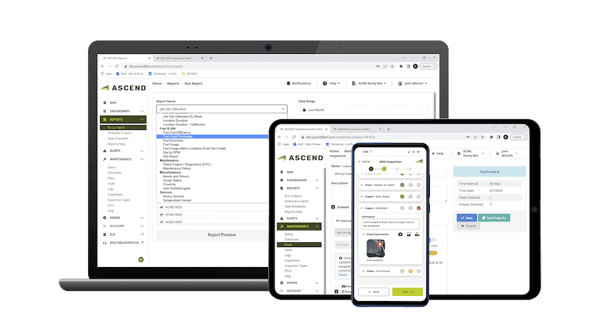 ASCEND's custom fleet management reports deliver:
Utilization and productivity insights.
Discover which vehicles and assets are underutilized and which teams are under-resourced, then reallocate as necessary. Understand your fleet's utilization by the hour, day, or week, by job site, and by asset type, regardless of OEM.
Compliance assurance.
There's no reason to burden drivers and office staff with manual inspection reports, hours of service, or IFTA reporting. And plenty of reasons not to: like accuracy, productivity, timeliness, sustainability, and of course, fewer fines and violations.
Fuel savings opportunities.
Our idle, fuel economy, and fuel usage reports can identify patterns of excessive idling, harsh driving, inefficient routing, and maintenance issues, by driver and by asset, helping you to slash fuel costs and make savvy asset purchases.
Deep dives on driver safety.
Awareness of unsafe driving behaviors like harsh maneuvers, speeding, and distracted driving is the first step towards correcting them. Compare drivers to each other and the entire fleet so you can provide the coaching necessary to protect your fleet and its reputation.
Proactive maintenance planning.
Status reports show when maintenance is due, so you can schedule for optimal uptime, while diagnostic alerts and dashboard review provide an early warning system, enabling your team to address issues before they become costly failures and repairs.
Three levels of customization.
Quickly and easily customize our report templates to suit your specific business needs. Gain new perspectives and insights by connecting data across business units with our robust API suite. And request deeper data integration and customizations for enterprise applications.