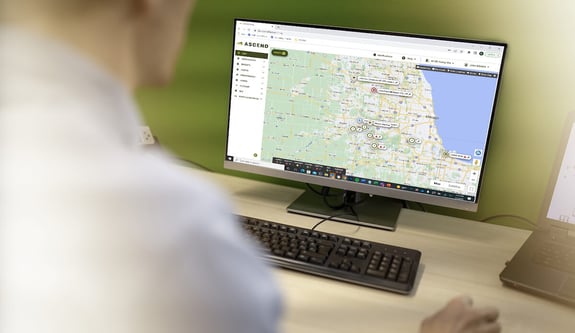 GPS vehicle tracking system
Keep your entire mobile fleet safe, productive, and in view in real time.
VEHICLE TRACKING:
So much more than pins on a map.
Beyond locating every vehicle in your fleet, you can now check their status, condition, logs, fuel consumption, driver behavior, delivery times, and more … in a single pane of glass. End-to-end visibility of even the most complex fleets — in real time and over time — makes operations more agile, responsive, and ready for whatever comes.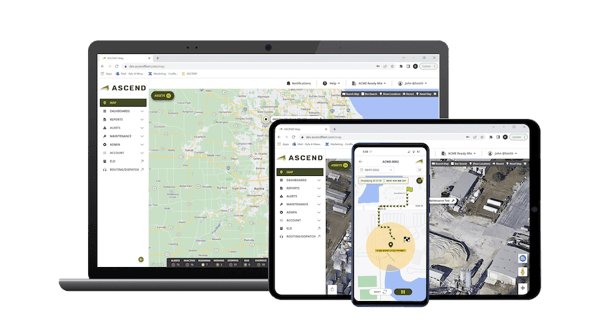 ASCEND's easy-to-use fleet vehicle tracking system enables you to:
Increase fleet productivity.
Make more stops in less time with optimized routing and in-app direct messaging. Keep tabs on delivery times, stop duration, idle and drive time. Track location and progress, and assign and reassign drivers based on real-time availability and proximity.
Reduce fuel costs.
Track mileage and vehicle performance, monitor harsh braking, aggressive acceleration, and other fuel-wasting behaviors, and keep an eye on traffic, re-routing in real time to prevent excessive idling and stop-and-go driving.
Make your drivers safer.
With integrated AI video, our GPS vehicle tracking system lets you assess harsh driving before, during, and after an incident. So you can coach drivers, track improvements with driver scorecards, reduce risk, and control costs.
Prevent violations.
Connect real-time location tracking with each vehicle's current hours of service, status, mileage, diagnostics, and DVIRs, so you can ensure that every vehicle you have on the road is in compliance with all applicable regulations.
Streamline back-office integration.
Empower dispatchers while enabling billing to confirm vehicle activity, payroll to confirm drivers' time on the job, customer ETAs to be sent automatically, and more … faster, more accurately, and with less administrative burden.
Find your fleet.
Get alerted the moment your vehicles enter unauthorized areas, then let our GPS vehicle tracking provide real-time updates of their locations, speed, and direction for efficient, reliable recovery of missing or stolen vehicles.