Real-time geofence monitoring
The simple way to keep even the most complex fleets productive, organized, and secure.
GEOFENCES:
Virtual perimeters. Real rewards.
With just a few taps on a map, you can define geofences — or virtual perimeters — that trigger entry or exit alerts, for a clear, real-time view of how and where vehicles and assets are being used, where they could be used better, and when they're not where they should be. So you can easily find the inefficiencies, the opportunities, and the missing vehicles and assets.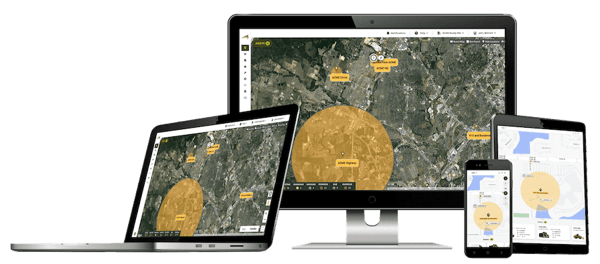 GPS geofence monitoring enables you to:
Improve utilization.
See how much time your fleet is actually spending on job sites and at service or delivery stops by setting geofences for various jobs, customers, and vehicle and asset groups. Then reallocate resources as necessary to where they'll be most productive.
Prevent losses.
Nearly 1,000 commercial vehicle and equipment thefts are reported annually. With geofences in place, you can get alerts via text, app, or desktop the moment a vehicle or asset is taken out of a designated area, for fewer losses and faster recovery.
Stop unauthorized use.
When GPS tracking detects patterns of off-route travel or stops, you can set up geofences around frequented areas like homes and restaurants to be alerted the next time drivers enter those areas and correct the behavior.
Track time on-site.
Log arrivals and departures of vehicles, assets, and employees into and out of geofenced areas like job sites, yards, and delivery zones for more accurate, verifiable billing and payroll, and to identify operational bottlenecks and inefficiencies.
Delight customers.
Draw geofences around customer locations to provide more precise ETAs, updates, and delivery notifications. Geofences can also define driver territories, for more streamlined deliveries and service calls, as well as relationship-building opportunities.
Reduce risk.
From after-hours use and theft to hazardous driving, liability exposure is high, on and off job sites. Use geofences to define zones that are off limits to certain vehicles and assets, restrict speeds, and avoid the costs of unsafe and unauthorized use.